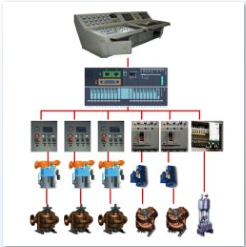 Steam driven cargo pump
The company's own brand turbine driven cargo pump system is designed based on the concept of standardization, modeling and serialization, and our product performance has reached the international advanced level. We can cover the requirements of cargo oil pump systems for crude oil tankers of 300,000-ton VLCC and below, product oil tankers of various specifications, and FPSO. And we can safely and efficiently realize the functions of external transportation of liquid cargo and in-cabin transfers.
The pump equipment of the turbine driven cargo oil pump system is centrally arranged in an independent pump room space, lined up along the width of the cabin, which is convenient for daily maintenance. Driving devices (including turbines and electric motors) are centrally arranged in The engine room above the pump room and are usually installed vertically; the pump equipment and the drive device are connected by a compartment transmission device. The compartment transmission device is arranged vertically through the cabin, and the compartment airtight structure is set to prevent oil and gas in the pump room fleeing into the engine room causes danger.
Main parameter
WCP250-WCP500
Specific parameters:
Rated displacement of single pump: 500~6000m³/h
Rated head: 120~150mlc
Turbine driving power: 750~3000 KW